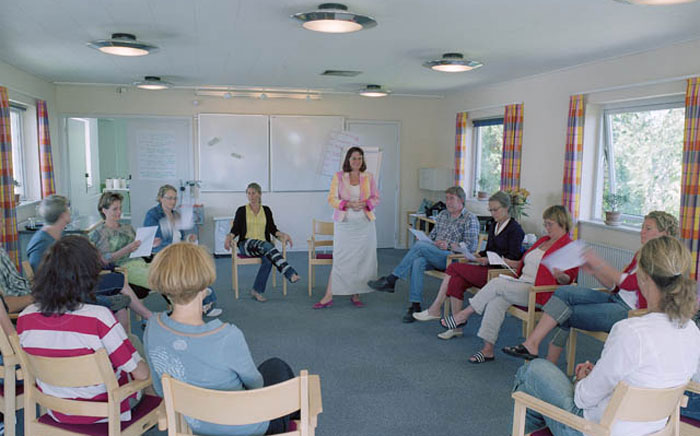 Meeting rooms
We have three great meeting rooms of different sizes, all with sea view and direct access to either garden, apple grove or rooftop terrace.
Large: 80 participants in rows of chairs, or 30 in a u-shaped table arrangement. Windows on three sides of the room.
Medium: 20 participants in a u-shaped table arrangement or more in alternative arrangements.
Small: 10-12 participants at the conference table, next to a cozy lounge area with sea view sofas.
Free AV-equipment
Most guests bring their own computer for presentations, but if necessary we are happy to lend you one of our Mac Powerbook laptops. All meeting rooms are equipped with the following AV-equipment free of charge:
whiteboard
flipover
PC-projector
overheadprojector
pens
notepads
Wi-FI internet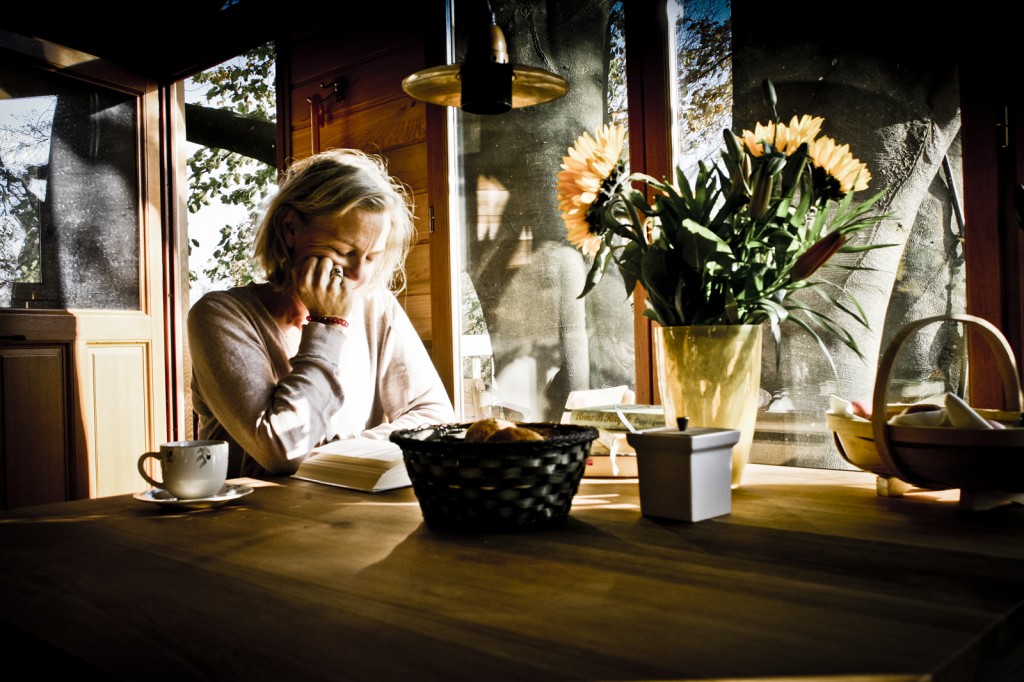 Other facilities
We have many other rooms and places ideal for work, solitude or relaxing breaks. There are many nooks around the house and the garden, as well as our dining hall and the bar with pool table and other distractions!
Free Wi-Fi internet
We have free WI-FI internet access for our guests all over the house at KALØVIG Center.
To access the Wi-FI connection, your computer should be set up to automatically receive IP-adresses og DNS-serveradresses from the server. To use e-mail programs such as Outlook, you can use smtp.mail.dk as the outgoing postserver (SMTP). Please contact your company IT-department prior to your stay, if you aren't certain about these settings.
Great meetings – best practice
We cooperate with the Department of Learning at Aarhus University on developing best practice within the field of meetings and conferences. We are happy to share our expertise and advice with you when planning you conference or meeting at KALØVIG Center – free of charge of course.
We also have an extensive network of interesting people, who can contribute to you conference or meeting with lectures on serious subjects or as entertainment. If you have more time on your hands, there are many possibilities for interesting outings in the local area surrounding KALØVIG Center.
Rooms and accomodation
We have 26 rooms (35 beds), of which 22 have sea view. All rooms have TV and most of them a kitchenette.
In addition to that, we have a lot of supplementary guest beds if necessary. For the really large conferences or parties we can rent supplementary rooms at neighboring hotels and conference centers.