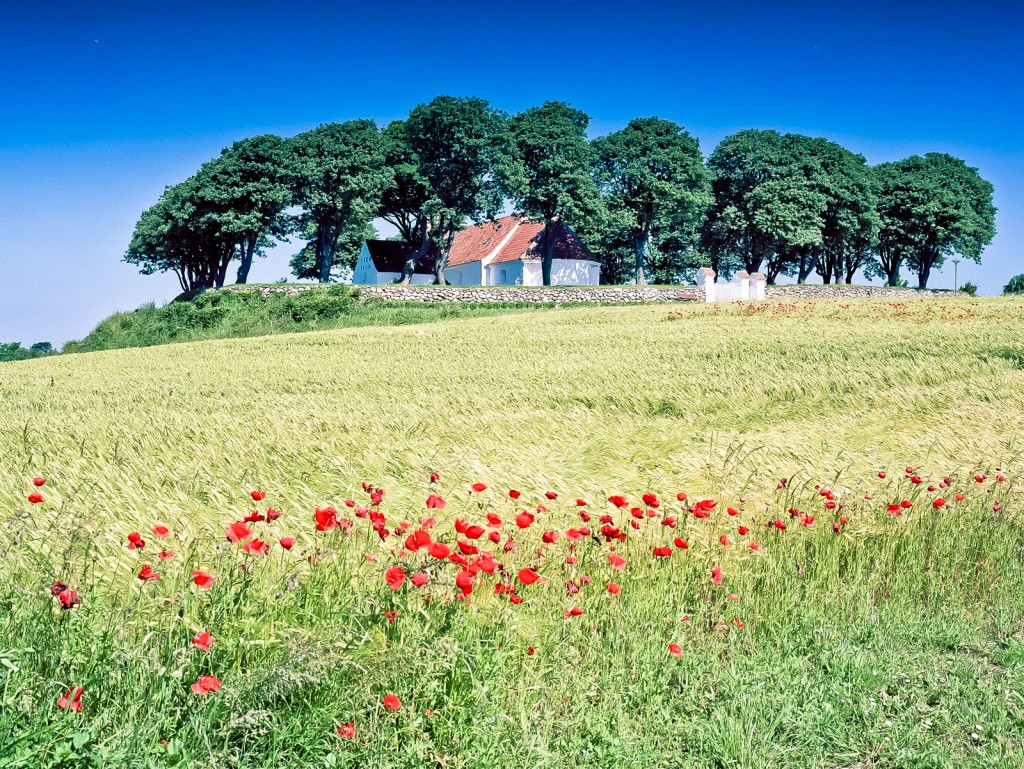 We want KALØVIG Center to gently blend into the surroundings – in respect of the environment. We have no CO2-emissions thanks to our green energy supply and we put great emphasis on nature with our garden, forest, coastal line and our Treetophouse.
Green energy
We have installed one of the largest geothermal installations in Denmark in 2008. This means that we no longer use any oil. The installation consists of more than 3.000 meters of piping, which collects the heat from the ground and transforms it into hot showers and warm rooms for our visitors.
In addition to the geothermal installation we have installed solar heating panels on our roofs in 2009. This enables us to benefit from the more than 1.800 yearly hours of sunshine on our grounds.
In 2017 we proceeded to install Solar cells in order to provide renewable energy for our own use, and – periodically – for others as well.  Placed high above ground on our south facing roofs, the panels produce up to 39 KW on a sunny day.
On cloudy days where we have to buy electricity, we buy energy from renewable sources. If you'd like to see our eco-friendly installations, we are happy to show them to you.
Organics in the kitchen – worthy of a silver certificate
In Denmark we have something called Det Økologiske Spisemærke, which translates into something like "The Organic Certificate for Kitchens". It is a certificate under the Danish Ministry of Environment and Food given to professional kitchens that are committed to using organic produce. There are three standards: Bronze, silver and gold,  and in order to get the certificate you have to document your use of organics every month and submit to regular audits from the authorities.
At Kaløvig Center we are proud to have obtained the Silver Certificate thus proving that we use at least 60-90% organic produce in our kitchen.
Green Key
Since 2017 we have had the Green Key certificate which is an international standard for Hotels committed to constantly improving on environmental and climate issues.
Green and blue surroundings
With a history as a seaside hotel and recreational estate we have the benefits of a large garden with many cozy nooks and terraces with breathtaking views of sea and forest. We have our own apple grove, which produces enough apples to make plenty of juice, marmalades, cakes and syrups to last throughout the year. To help the apple blossoms along we have 240.000 staff members working in four bee hives. The busy bees produce lots of tasty honey, bringing nature to the breakfast table and many other delicious dishes. As a contrast to all the green you can enjoy the view of the sea or a breezy walk alongside the 750 meters of coastal line on our estate.
The Treetop House
The greenest of the green has come! In May 2011 we fulfilled a universal childhood dream by building a treetop house in our giant leafing beech tree. Our vision was to create a place of overview, outlook and insights. Today the Treetophouse is an extraordinary meeting room! The house is 10 m2 with an 11 m2 terrace and enough room for 4-5 people. The treetop house is also used for overnight stays, thus turning into a cozy nest among leaves. Please read more about our treetophouse here